The EOS Process™ provides a proven way to put all the pieces together, incorporating each of the EOS® Tools in the right order to best strengthen each key component of your business.
Business owners, leaders, and managers are often very busy and don't see how they can add anything more to their plate – hence the feeling of being stuck and frustrated. This process (illustrated below) takes that into consideration, helping leaders and managers to implement the tools that will have the greatest impact first. Within a short period of time, everything starts to fall into place and you experience that wonderful feeling of freedom. The business is no longer controlling you, you are controlling the business – improving and making substantial progress every 90 days.  We call that Traction®.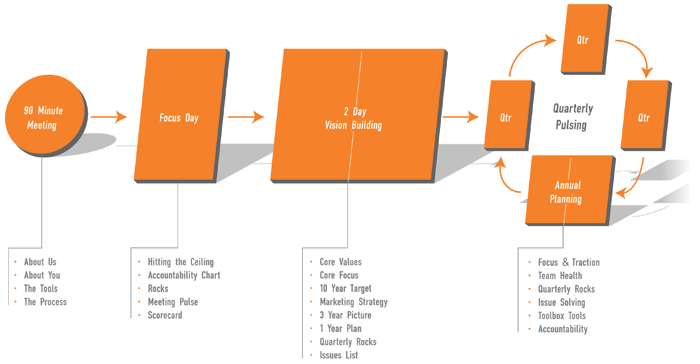 Our Program starts with us giving you and your leadership team a free 90 minute "learning" session comprised of overviews of the key tools and disciplines we teach, as well as a walk-through of the typical process (see diagram below).
If you find the program compelling, a Focus Day™ is scheduled, and we begin a time-tested process for teaching you tools and disciplines that will provide immediate value. From there, two vision-building days will make it easy for you to get everyone in your company aligned on where the company is going and how you plan to get there. Thereafter, we meet every 90 days until you have mastered the system.  Within about 18 months, most clients "graduate" and no longer need us.
Each session is guaranteed and there are no contracts or up-front fees. You simply pay at the end of the session if you feel you've received value.