Decide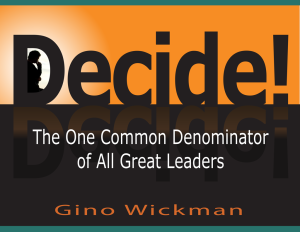 The number one common denominator between great leaders and leadership teams is the ability to make good decisions. As Napoleon Bonaparte said, "Nothing is more difficult and therefore more precious than to be able to decide."
Decide! lays out four major discoveries about making good decisions, and an exact process for doing so. Along the way, you'll read about many leaders who have succeeded using these methods. That's because these discoveries work in the real world, not just in theory.
While we may be experiencing the worst economic downturn of our lifetimes, it may also be the best opportunity for those who make good decisions. The ones who can see the big picture will grab market share from those who vacillate. This may be the very moment for your company to make that big push.
This e-book is short, sweet, and to the point. Grab it, read it, and put it to work right away in improving your decision-making ability.